Balnakiel Church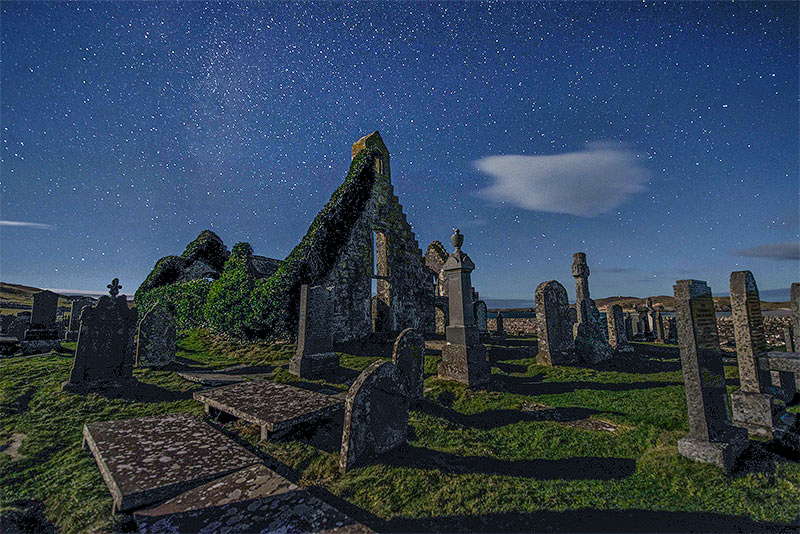 A mile or so from Durness in Sutherland, at the western end of Balnakiel Bay lies this little ruined, ivy-clad church. With views extending over Balnakeil Bay and the long sweep of sand dunes leading to Faraid Head, there can be few more spectacular final resting places. On the night I visited the church the wind was so strong that I didn't dare move away from my camera and tripod to go and paint the inside of the building with light, but the full moon was so bright that it bathed the whole scene with a lovely atmospheric light.

The church itself was built in 1619, on the site of a much older church that is recorded as having supported the Crusades in the 1100s. Inside the church is a tomb built into the niche on the south wall, said to be the last resting-place of a famous local villain, Donald MacMurdo. He carried out raids from his den on the east side of Eriboll and was thought to have been responsible for at least eighteen murders, disposing of the bodies by dumping them into the waterfall that runs down into the caves at Smoo. He certainly realised that he had made many enemies during his life, for he paid the princely sum of 1000 pounds to be buried in a specially constructed vault within the church so that his enemies could not desecrate his remains. The tomb is worn, but there are striking carvings, including heraldic symbols, a huntsman killing a stag, a sailing ship, a fish, and a skull and crossbones.

John Lennon's aunt, Elizabeth Parkes, is also buried in the churchyard. Lennon visited Durness frequently, and is said to have written "In My Life" about his experiences in the area.
| | |
| --- | --- |
| | |